Home - Member
Overview
On this unassuming screen are many powerful features that you manage your whole organization with ease.
Details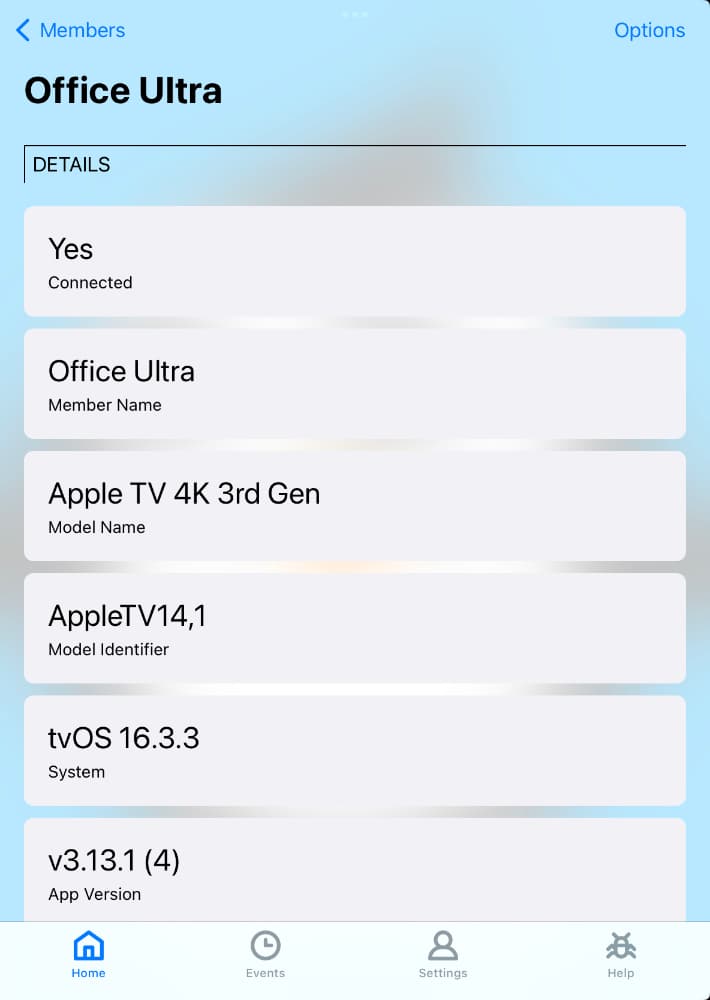 The Details section shows a number of parameters that a device reports regarding itself — its OS version, app version, model name, etc. Also, is the device currently running Streamie and connected to the backend? The first field answers that question.
Options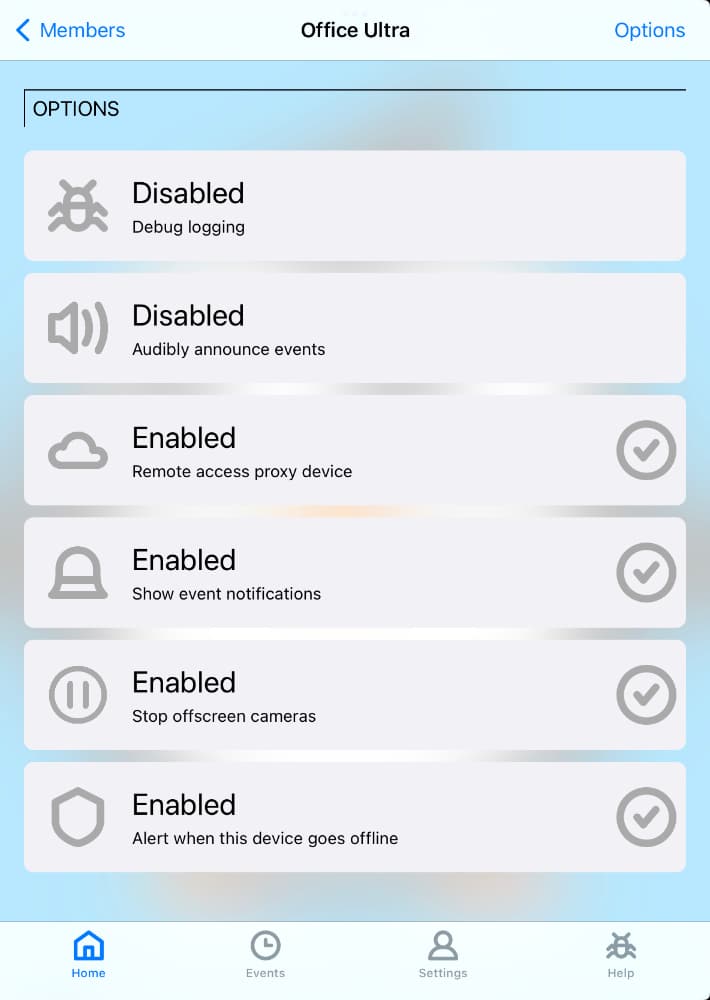 In the Options section, we start getting into some of the management features. These are the same options that are available in the Settings tab on each device. The difference is that you can control these settings for any of your devices without it being physically present.
Debug Logging. If you're experiencing a support issue, we may ask you to enable this to aide in diagnosing the issue. Once enabled, it will remain enabled for one week.
Audible Announcements. You may configure your Smart Home Devices or Camera Actions to speak announcements like, "Car in the driveway" or "Front door opened." Sometimes it isn't appropriate for Streamie to blurt out those details though, and this option will enable / disable that feature for this one device.
Remote Access. Should this device be a candidate to enable remote access to local cameras? The best option for this are always-on devices that are wired to your network.
Event Notifications. As with the audible announcements feature, you can also configure events to send you notifications. Sometimes you need that to stop. This option controls whether those notifications will be visible on this device.
Stop Offscreen Cameras. This is a bit of a niche feature. If you're streaming a group of cameras that scroll off the screen, what happens to those cameras when they're not visible at all? By default, Streamie will pause those streams and automatically resume the streams when you scroll those cameras back to being visible. There's a small delay when that happens, so if your device supports streaming all of the group's cameras simultaneously, you can disable this feature and offscreen cameras will always be active.
Offline Alerts. If due to an app crash, an internet outage or a user just messing with things, if this feature is enabled then you'll receive a notification when this device goes offline.
Status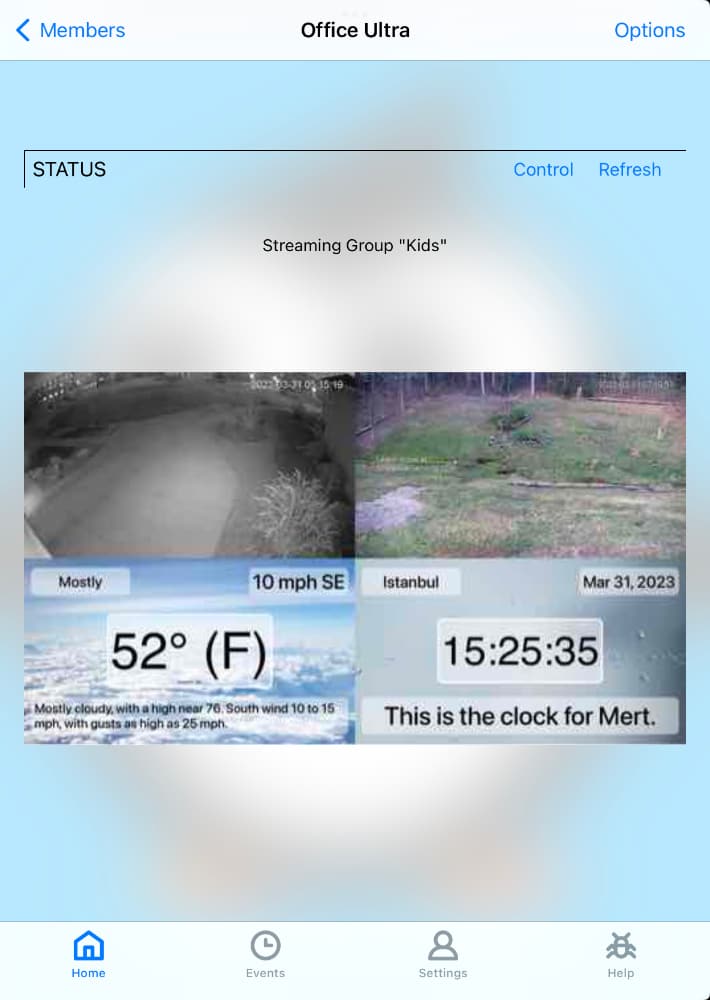 This Status section is where things get interesting. To start with, if the device is online, you should quickly see a screen grab from the device. For reasons I don't want to explain right now, while the screen grab is as current as when it appeared, any live streaming cameras are possibly several minutes old. Alright. I'll explain. Basically, the video layers can't be included in the screen grab, but layered directly under the video layers are the recent snapshots from each camera, and that's what you're seeing in the screen grab. For any UI component other than live streaming video, the screen grab will show the current state of the device. And to be clear, this is not live. You have to hit that Refresh button if you want an upgraded screen grab.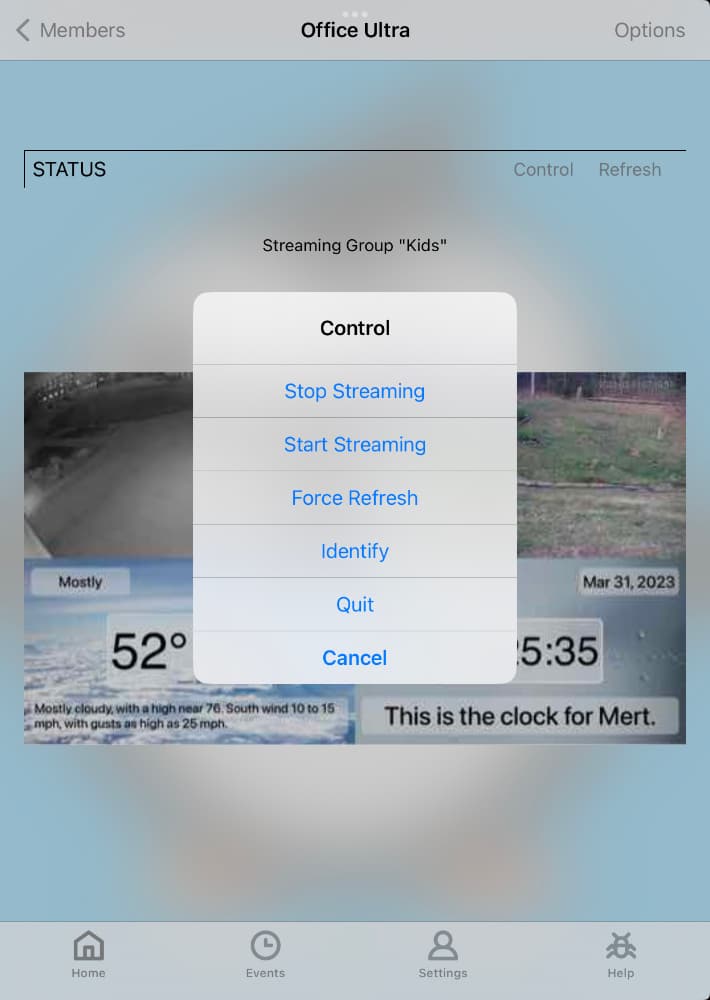 Finally, there's the Control button. Using this button, you can perform common management operations on a remote device, such as refreshing its local data if you think there's been a synchronization issue, stop a streaming session, start streaming a particular camera, module or group, and so on.
Conclusion
If you have Streamie devices that you want to monitor and manage that aren't right in front of you, these remote management features can make your life easy.
Related Topics
About Streamie
Streamie provides a best-in-class user experience on your iPhone, iPad, Apple TV and Apple Silicon Mac, with an intuitive user interface that makes it simple to discover, stream, record, monitor and share your HomeKit, Google Nest, Ubiquiti UniFi Protect and ONVIF-compatible IP and RTSP cameras. Streamie keeps you informed with motion event notifications and it works with most cameras using its advanced audio and video codec support. You can watch your cameras from anywhere, record 24/7 to your private NAS, remotely manage multiple locations, device permissions and seamlessly synchronize settings across your devices; configure Hubitat smart home automations, live stream to YouTube and rely on the in-app technical support system when you need help (but you can also reach us by phone). Download Streamie today. Lastly, Streamie is solar powered!