Permissions
Overview
Permissions, or more specifically, Permissions Groups, is a feature that allows you to restrict access to data and UI features. In short, you can choose a set of your devices to only have access to specific Cameras, Groups, Modules, Smart Devices and File Servers and you can choose a restrictive set of screens, preventing any of the devices in that Permissions Group from accessing certain app features.
Permissions is implemented as a whitelist system. By default, any device that is a part of a Permissions Group has no access to anything. As an administrator, you will enable each Data Object and Interface feature for a given Group.
Permissions is a feature that was first introduced in Streamie v3.13.0. The feature is available on any business subscription.
Permissions Groups
A Permissions Group is a collection of Actions for Data Objects and Interface features, along with a set of member Devices. Once your Permissions Group is configured and saved, you can apply your permissions to your account. Updated permissions are pushed to your devices that are online. For offline devices, they will read the updated permissions once Streamie is started.
Permissions Groups are cumulative, so a member Device that is a part of several Permissions Groups will have the sum of all those permissions.
Any device that is not a part of any Permissions Group is an unrestricted admin device that has total data and interface access. To reduce the chances of an accidental lock-out situation, you cannot add your current device to a Permissions Group.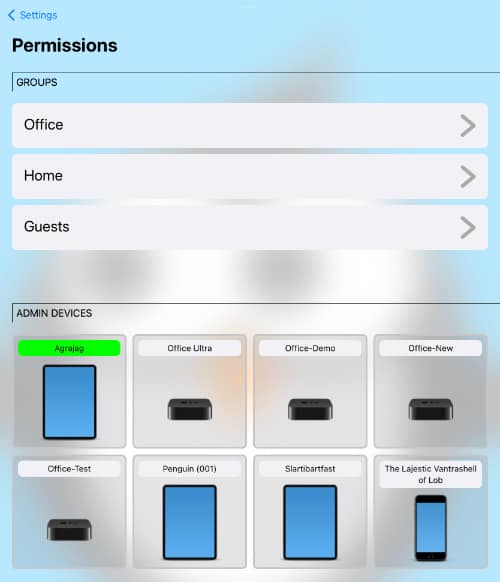 Data Restrictions
Data restrictions are primarily enforced by the server, with the Streamie app trying to provide an intuitive user experience that lets the user understand which data limitations exist. For any given controllable object (Cameras, Groups, Modules, Smart Devices, File Servers), you can selectively enable Permission Actions such as Reading, Writing, Deleting and Executing. These Actions have a contextual meaning with the specified object. For instance, Executing in terms of Cameras means being able to stream that camera. The same is true of Modules.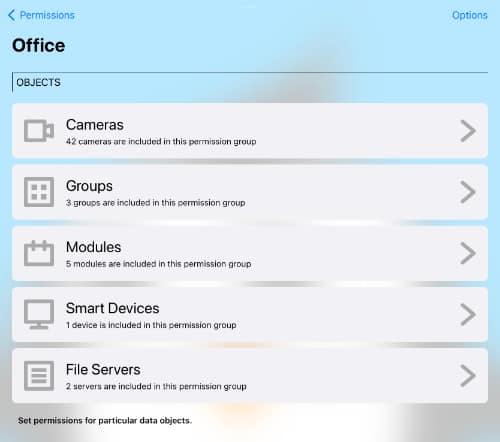 Interface Restrictions
The Streamie interface is primarily tab-driven with a series of sub-screens within each tab. With the Permissions feature, an administrator can individually enable particular sub-screens. If no sub-screens for a tab are enabled, that tab is not visible to the users of that Permissions Group.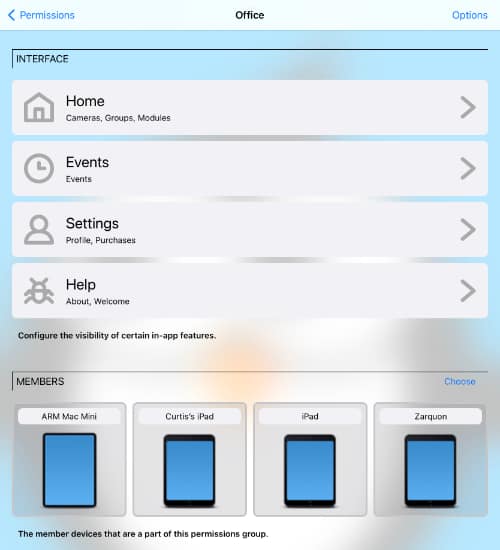 Related Topics
About Streamie
Streamie provides a best-in-class user experience on your iPhone, iPad, Apple TV and Apple Silicon Mac, with an intuitive user interface that makes it simple to discover, stream, record, monitor and share your HomeKit, Google Nest, Ubiquiti UniFi Protect and ONVIF-compatible IP and RTSP cameras. Streamie keeps you informed with motion event notifications and it works with most cameras using its advanced audio and video codec support. You can watch your cameras from anywhere, record 24/7 to your private NAS, remotely manage multiple locations, device permissions and seamlessly synchronize settings across your devices; configure Hubitat smart home automations, live stream to YouTube and rely on the in-app technical support system when you need help (but you can also reach us by phone). Download Streamie today. Lastly, Streamie is solar powered!