Home - Smart Devices
Overview
Streamie has Smart Home support.
Originally, Streamie Smart Home support was exclusive to Samsung Smart Things, but they deprecated that entire (somewhat dated) system and we've not bothered to re-write everything to maintain compatibility.
Meanwhile though, there's Hubitat! Hubitat required minimal effort to port our Smart Things Groovy app, which you can download here.
Adding Smart Devices
Unlike with Cameras, Modules, Groups, etc., the model with Smart Devices is different. Streamie is a "passive learner" of your smart home system. In other words, you don't actually have to add any devices to Streamie; Streamie will learn all about your smart home system automatically.
To get started, install the Streamie Notifications Groovy app in your Hubitat system.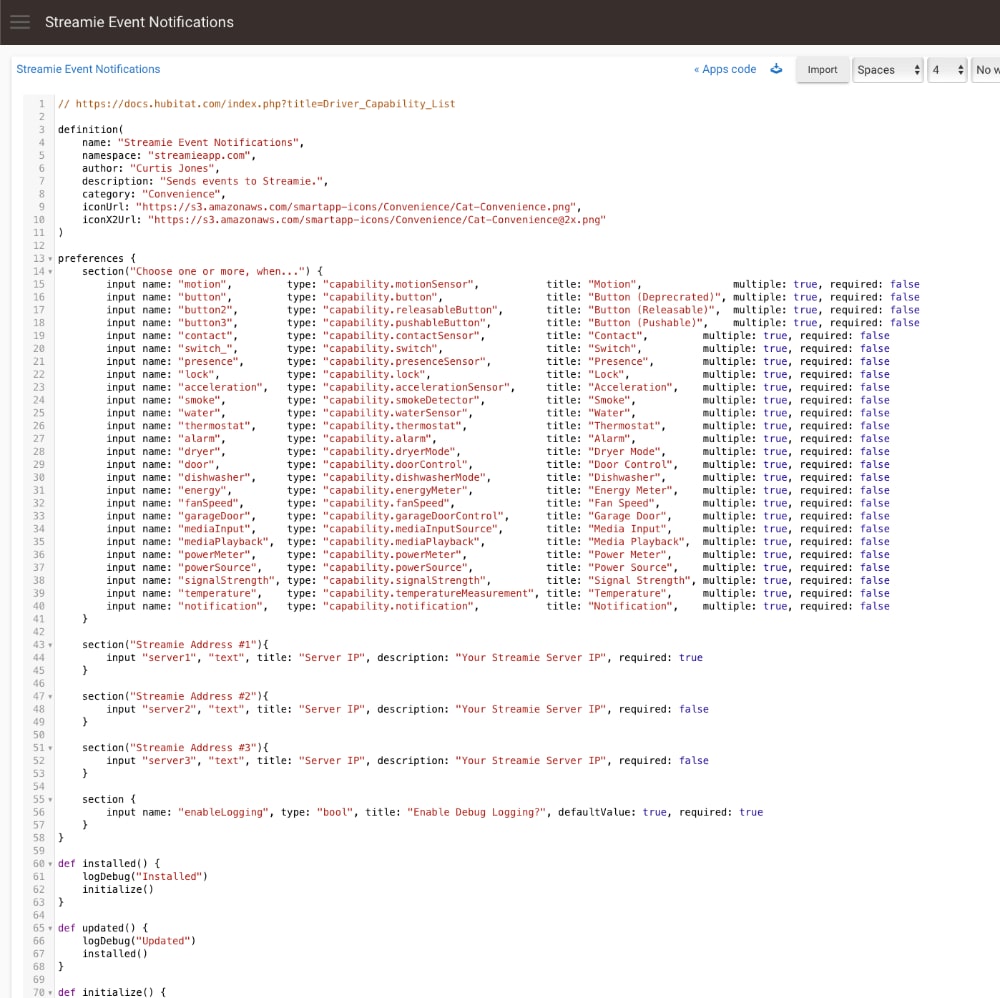 Next, you'll want to configure the Streamie Notifications app in your Hubitat system by adding to it all of the Hubitat-integrated devices that you want Streamie to be aware of.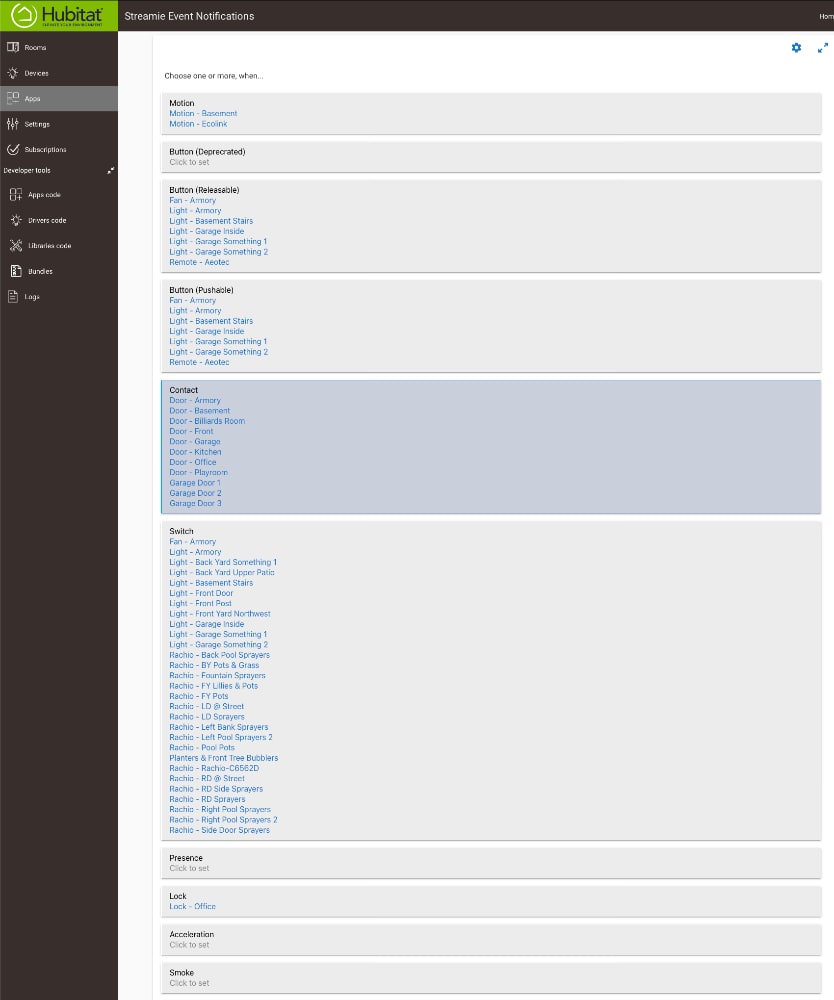 The final step is to tell the Streamie Notifications app how to find Streamie on your network. You need to provide one or more IP addresses of preferably an always-on dedicated Streamie device (such as an Apple TV).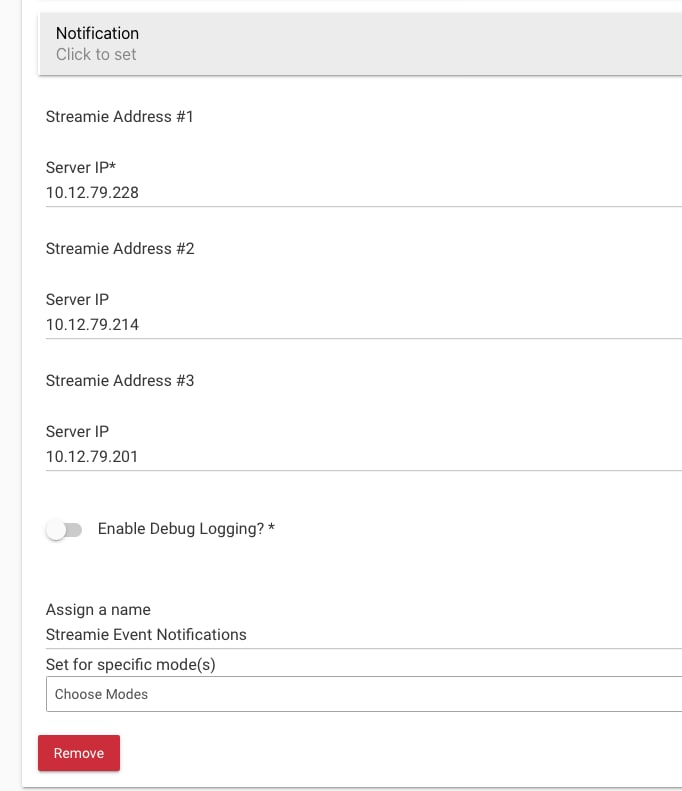 Once you've saved these changes, you should be good-to-go. As smart home events occur, Streamie will be informed of them and the devices will appear in Streamie.
Automating Smart Home Devices
Once a smart home device is known to Streamie, you can customize it with Actions. Smart Home devices are visible on iPhone, iPad and Apple TV, but they cannot be configured (as described here) on Apple TV — only on iPhone and iPad. Well, and your Apple Silicon Mac, too.
Tap on a Device to start editing it.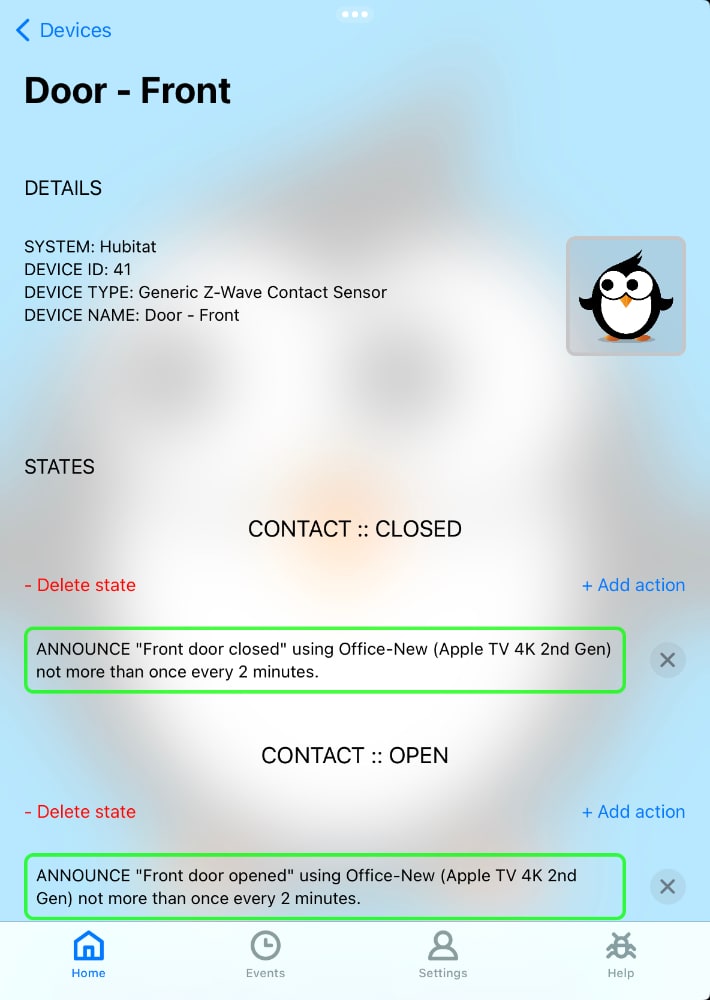 Streamie will show you the device states it is aware of for that device. You can add an action to any known device state, such as a door opening or a light being turned off.
The events you can automate involve speaking audible alerts, logging events using a camera to capture a snapshot, a recording and to send your other devices a notification, or even just capturing a snapshot or recording to be saved directly to your iCloud photo album.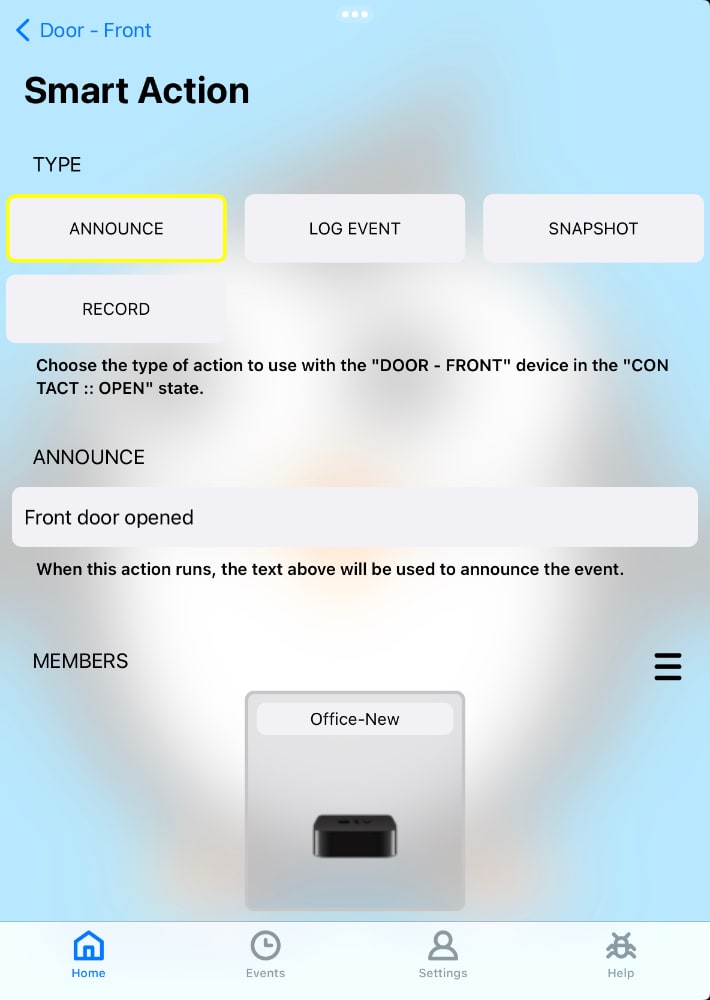 Conclusion
Smart Device integration with Streamie is a powerful feature that allows you to integrate your smart home system with Streamie.
Related Topics
About Streamie
Streamie provides a best-in-class user experience on your iPhone, iPad, Apple TV and Apple Silicon Mac, with an intuitive user interface that makes it simple to discover, stream, record, monitor and share your HomeKit, Google Nest, Ubiquiti UniFi Protect and ONVIF-compatible IP and RTSP cameras. Streamie keeps you informed with motion event notifications and it works with most cameras using its advanced audio and video codec support. You can watch your cameras from anywhere, record 24/7 to your private NAS, remotely manage multiple locations, device permissions and seamlessly synchronize settings across your devices; configure Hubitat smart home automations, live stream to YouTube and rely on the in-app technical support system when you need help (but you can also reach us by phone). Download Streamie today. Lastly, Streamie is solar powered!