Using Layout and Modes in Camera Groups
Overview
When editing a camera group, you can now (as of v3.8.0) configure the precise layout of the cameras in the group as well as the behavior mode of the cameras. Read on for more details.
You can find a quick demo video here.
Arrange
Long-press on a camera to drag-and-drop it to arrange the cameras. The aspect ratio of the view is the same as the window in which you are viewing the app, so if a camera is "below the fold" then it won't be visible without scrolling when you stream the group.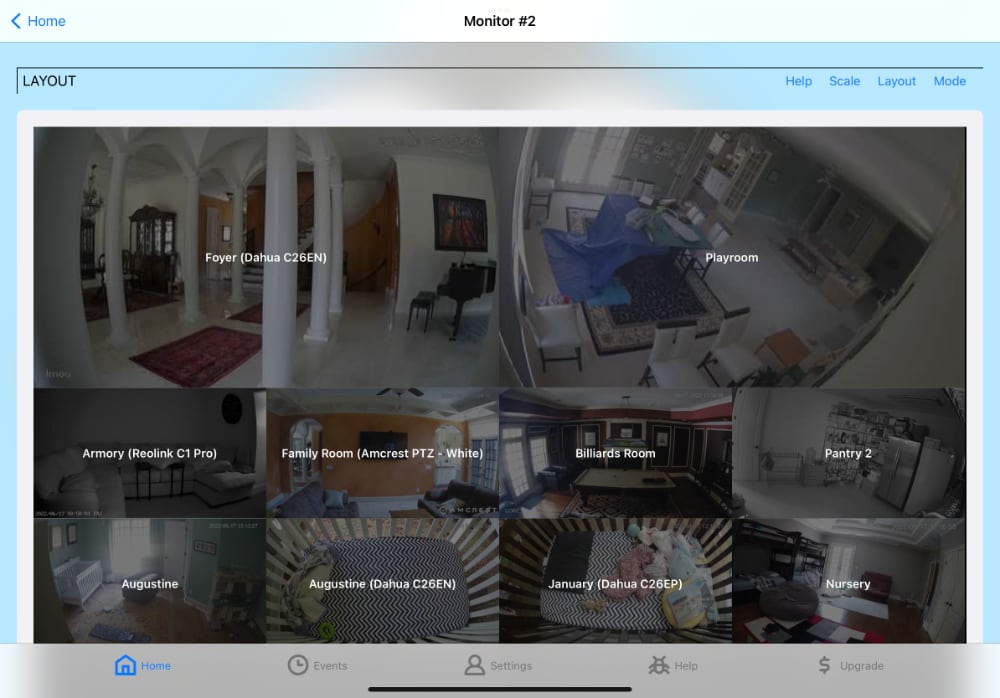 Layout
Streamie supports camera layouts both vertically constrained (scrolls horizontally) and horizontally constrained (scrolls vertically). By default, Streamie scrolls vertically. You can change the default behavior for a group using the Layout button. The order of the cameras remains the same, but the layout direction changes.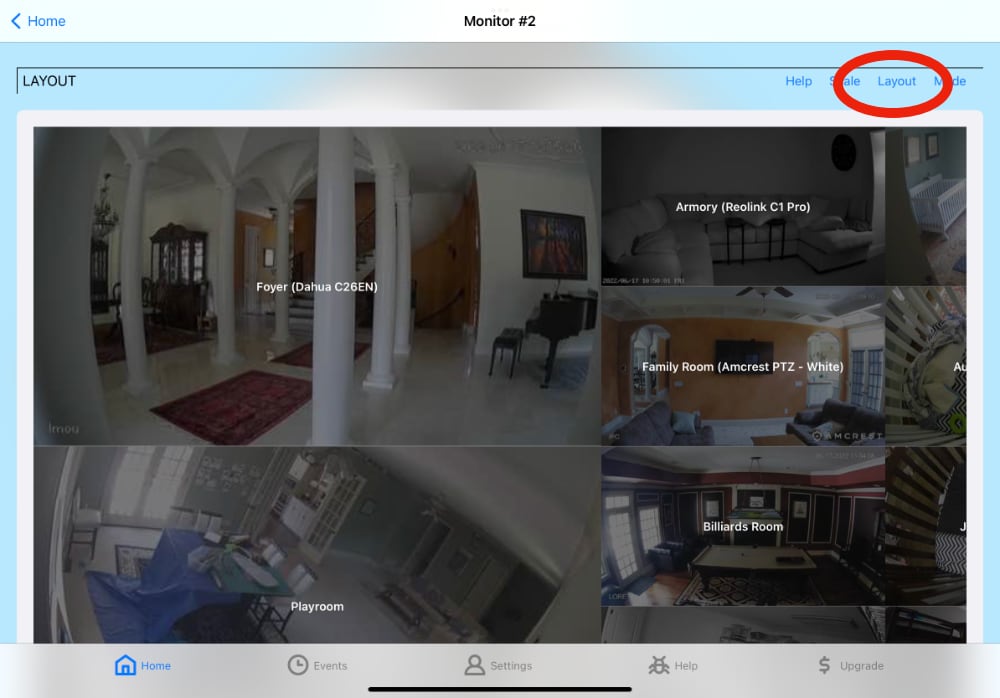 Scale
The scale of the layout represents the number of cameras that are arranged across the primary axis. In the screenshot seen below, the scale is set to four. The two larger cameras each take up two "slots" in the layout. You can adjust the individual size of a camera by tapping on the camera itself. You can adjust the scale of the layout by tapping on the Scale button.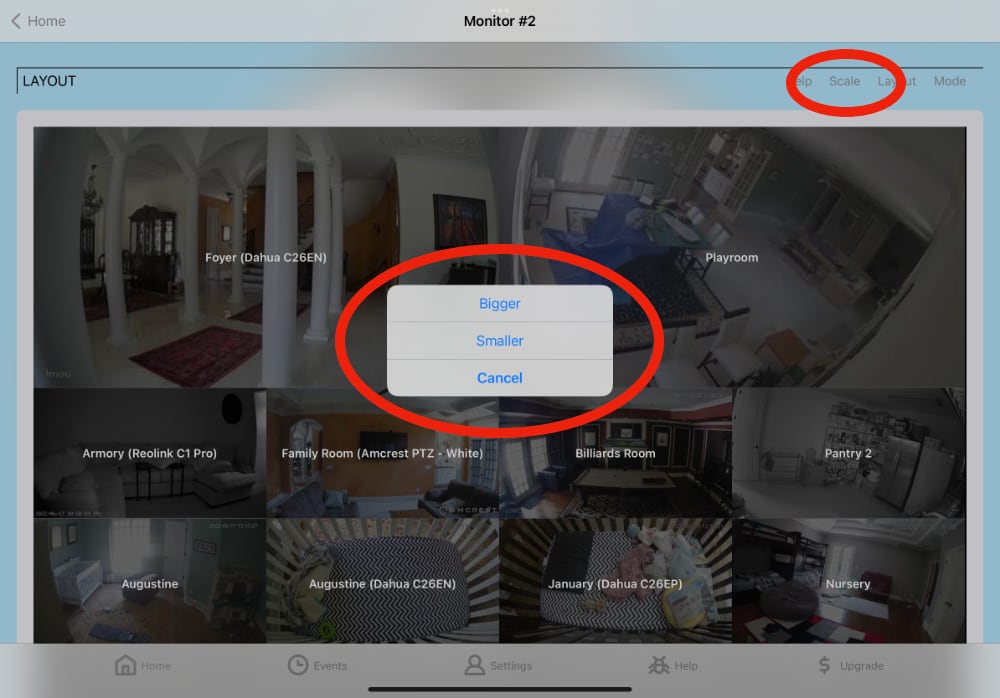 Mode
Irrespective of the specific camera, you can change the behavior of the "slot" where a camera is positioned. For instance, the Looper mode loops in offscreen cameras into that position automatically while you're streaming the group. This allows you to, for instance, have ten cameras in a group that only displays four cameras at a time, and Streamie will cycle through the six offscreen cameras, periodically bringing them onscreen.
To set Looper mode for a camera, first tap on the Mode button which will show you the current mode for each slot. Then tap on a slot to set its mode.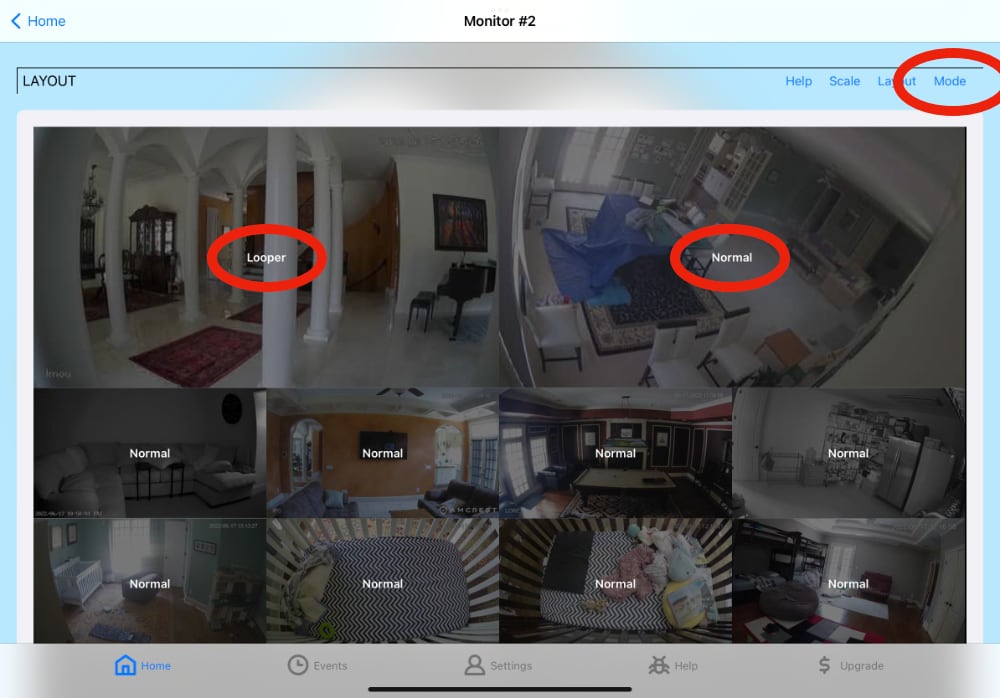 Final Thoughts
Don't forget to his Save & Close when you're done, so that you don't lose your changes. Let us know if you have any questions.
Related Topics
About Streamie
Streamie provides a best-in-class user experience on your iPhone, iPad, Apple TV and Apple Silicon Mac, with an intuitive user interface that makes it simple to discover, stream, record, monitor and share your HomeKit, Google Nest, Ubiquiti UniFi Protect and ONVIF-compatible IP and RTSP cameras. Streamie keeps you informed with motion event notifications and it works with most cameras using its advanced audio and video codec support. You can watch your cameras from anywhere, record 24/7 to your private NAS, remotely manage multiple locations, device permissions and seamlessly synchronize settings across your devices; configure Hubitat smart home automations, live stream to YouTube and rely on the in-app technical support system when you need help (but you can also reach us by phone). Download Streamie today. Lastly, Streamie is solar powered!